There are many reasons for studying abroad:
You curious about life abroad and you want to find out what it is really like;
It may be that you have longed to experience a foreign culture for yourself;
You maybe bored in your home country and want to a change of environment;
Or maybe you just want to put pressure on yourself to improve your English.
No matter what the reason is, or what your education background looks like, studying in Canadian undergraduate programs will definitely allow for a good learning experience, and the study-abroad life in Canada will certainly surprise you.
Planning to enter a Canadian university in 2020 and start a new life? This guide offers you enough information for you to apply.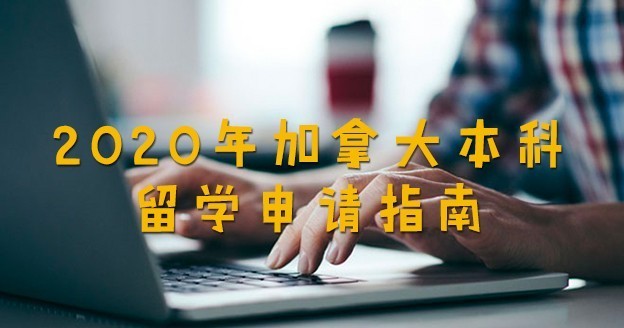 When should I start preparing for the application?
Canadian universities have two admission times per year, once in September and once in January. Not all programs of the school arrange for enrollment in January. So if there are not any special circumstances, try to enroll in September.
The following are application deadlines for September admissions to major Canadian universities. The deadlines for specific programs may vary. This table is for reference only. Please confirm the deadline on the school's official website:
| | |
| --- | --- |
| School | |
| Acadia | rolling |
| Alberta | 1-Mar |
| Bishop's | 1-Apr |
| Brandon | 1-Apr |
| Brock | 1-Apr |
| Calgary | 1-Mar |
| Cape Breton | 1-Aug |
| Carleton | 1-Apr |
| Concordia | 1-Feb |
| Dalhousie | 1-Apr |
| Guelph | 15-Feb |
| Lakehead | 1-Mar |
| Laurentian | 1-Feb |
| Laval | 1-Mar |
| Lethbridge | 15-May |
| Manitoba | 7-Jul |
| McGill | 15-Jan |
| McMaster | 1-Feb |
| Memorial | 1-Jun |
| Moncton | 15-Jun |
| Montreal | 1-Feb |
| Mount Allison | rolling |
| Mount Saint Vincent | 21-Jun |
| New Brunswick | 31-Mar |
| Nipissing | 1-Apr |
| Ottawa | 1-Apr |
| Queen's | 1-Feb |
| Regina | 1-Mar |
| Ryerson | 1-Feb |
| Saint Mary's | rolling |
| Saskatchewan | 1-May |
| Sherbrooke | 15-Jan |
| Simon Fraser | 31-Jan |
| St Francis Xavier | 30-May |
| St Thomas | 1-Jun |
| Toronto | 16-Jan |
| Trent | 1-Jun |
| UBC | 15-Jan |
| UNBC | 1-Mar |
| UOIT | 31-Jan |
| UPEI | rolling |
| UQAM | 1-Mar |
| Victoria | 30-Apr |
| Waterloo | 29-Mar |
| Western | rolling |
| Wilfrid Laurier | 1-Apr |
| Windsor | 1-Mar |
| Winnipeg | 1-Mar |
| York | 6-Mar |
The general online application platform will be open this fall. UtoCanada recommends that applicants allow themselves at least one year to prepare application materials. Please plan the preparation of various materials according to the universities' application deadlines.
What are the materials required for the application?
a. School Application Form
Most colleges and universities have opened an online application platform to for applicants to apply from the comfort of their own homes.
b. Diploma
You need to provide the official Chinese and English diploma certificate issued and stamped by the school. If you are still in school at the time of application, you need to have your school issue a certificate of enrollment.
c. Original 3-year transcript issued by your high school (Chinese and English)
Although Canada values the development of comprehensive quality of its students, some still prioritize getting high marks. If you are already studying at a university or have completed an undergraduate program in China, you will still need to provide a high school transcript when applying for a Canadian undergraduate program, because Canadian undergraduate applications are still evaluated based on high school marks.
d. College entrance examination results:
Major universities in Canada often have different requirements for application materials, and many schools will require the submission of college entrance examination and high school unified examination results. So, if you think your exam results in China have nothing to do with your plan to study abroad, think again! If you simply do not have a college entrance examination result, the schools generally require you to write a letter of explanation. High school students tend to focus on the college entrance examination and have a sloppy attitude towards the high school unified exam. They tend not to strive for a higher mark, but only aim to pass. It may come as a surprise, but Canadian universities do refer to these exam results when deciding on your admission. The high school unified examination is viewed as equally as the official college entrance examination.
e.Reference Letters
Different schools will have different requirements for the number of reference letters. Your first recommendation should definitely not be from the highest-ranking teacher in your school, but the two or three teachers who know you best. Their evaluation of you is the most practical and convincing.
f.Personal Statement
If the school you are applying for requires a personal statement, then this is the document that best reflects your overall strengths. In addition to that, various types of awards, certificates or contest rankings can also allow you to show off your talents in a more prominent way. If you do not have hard evidence of your achievements, a personal statement is the best place for you to showcase your interests, extracurricular activities, volunteer experience, and so on. There are rules and skills in writing personal statements. Students are welcome to reach out to the most reliable consultants from UtoCanada to talk about these strategies.
g.English-Language Proficiency Certificate
All universities have clear requirements for IELTS or TOFEL scores. In addition to the overall score, the four sub-scores in listening, speaking, reading and writing must also meet the requirements. If you have a Band 9.0 in Reading and 4.0 in Writing, please work harder! However, the high cost of international student tuition has also made the cut-off scores lower for many colleges and universities. They often make adjustments to their language score requirements. For example, many universities provide conditional admissions, that is, allowing students to complete an English program at their language centre. After the student achieves a final language score that meets the requirements of their applied program, they can be directly admitted into their program. The name of this kind of language preparatory program varies from school to school. For example, McMaster University provides the MELD program (McMaster English Language Development Diploma Program). After obtaining a diploma in from the language program, you can start your program's courses.
Basic Steps for Undergraduate Application
(1)Understanding and screening of Canadian schools
Although rankings alone are not enough to explain the teaching quality of the schools, especially with specific programs, rankings can only be used as an index for understanding colleges and universities. The few schools with top rankings are definitely worth paying attention to. There are many versions of university rankings. It is recommended that you refer to them in comparison. Among them, Maclean's, a Canadian news magazine with a long history, publishes freshly released university rankings every year (https://www.macleans.ca/education/university-rankings/canadas-top-school-by-student-satisfaction-2019/).They provide the most updated and reliable resources. What is more worth mentioning is that Maclean's has subdivided rankings and that list undergraduate and doctoral universities. Their student satisfaction surveys are also worth reading.
If your marks are not high enough, you hesitate from applying to a prestigious university, and you are just asking not to be scammed by a diploma mill, then here are a few rules to follow -- the Canadian government website has released a list of officially recognized higher education institutions: Designated Learning Institution, referred to as DLI. Only applying to the universities listed (https://www.canada.ca/en/immigration-refugees-citizenship/services/study-canada/study-permit/prepare/designated-learning-institutions-list.html) makes you eligible for a student visa. That way, the government of Canada ensures that you will not be deceived by any improper organizations.
(2) In-depth understanding of the schools you are interested in
After selecting a few universities, you can start targeting your research on the schools from their official websites to learn about the schools and programs you are interested in. Look for information on course curriculums, graduation requirements, possible career directions, and of course, the application requirements. Be sure to read and understand it carefully.
(3) Prepare your materials and start applying
Prepare according to the school application materials list. Fill out the school online application form, and submit your application as soon as possible.
Different schools will have different requirements for proof of enrollment certificates, Chinese/English transcripts, and other paper documents. Some schools may only request to upload scanned copies, or they may still require you to submit the originals in person when you arrive at the school. Be sure to read the requirements in detail.
(4) Wait for your admission results
At this stage, all that you can do has been done, and the next step is to just wait. If you are in the last year of high school in China, you must prepare for the college entrance examination while waiting for your admissions notice. Under multiple pressures, you must make mental adjustments. After all, many colleges and universities require students to submit college entrance examination results. Do not let your excitement of studying abroad affect your preparation for the college entrance examination.
You will receive different offers one after another at the end of the year or early 2020. General offers from universities and colleges allow for a decision period, so you can take your time to decide on which school and program to attend. At this time, you can pay a deposit or the first year of tuition according to the specific requirements of the chosen school.
(6) Apply for a student visa
Canada has opened the Student Direct Stream (SDS) to citizens of four Asian countries, including China, and requires you to meet the following requirements:
have an IELTS minimum score of 6.0 in each section
have an acceptance letter from any DLI designated college/university
prove that you've paid the tuition fees for your first year of study
have a Guaranteed Investment Certificate (GIC) of $10,000 CAD
The SDS visa processing time is generally around 2-3 weeks, and students who intend to start their studies in September should try to start preparation in June.
Brief Summary
The application and review process can be found on the colleges' and universities' websites, and will basically follow the same process we have introduced above. As long as the deadline and the required materials are clearly stated, the application process itself is not complicated. In comparison, school selection and program selection are the most critical steps. First of all, extensive and in-depth research and understanding are all crucial steps, where strategic research is more important.
While some North American students tend to take a gap year before they start college/university, most Chinese students who apply to study abroad hope to start their undergraduate study as soon as possible. It is particularly important to choose schools strategically, to ensure the start of their studies in September. I hope this application guide answers to your concerns and boosts your confidence in the application process. If you would like to learn more about UtoCanada's experience in undergraduate applications, feel free to contact us. Our professional team will help you gain the confidence you need for your applications.